ESA-EIRMIP Research Grant 2021/22 Academic Year
VALUE-ADDED SUGARCANE PRODUCTS IN ESWATINI
Background
 The Eswatini Sugar Association (ESA), in collaboration with the Eswatini Institute for Research in Traditional Medicine, Medicinal and Indigenous Food Plants (EIRMIP), University of Eswatini (UNESWA), have a project to investigate value-addition on sugar and/or sugarcane in the Kingdom of Eswatini.   The ever-changing sugar markets globally have resulted in the overall decline in sugar sales over the years. Due to this change, innovation and environmental protection through value-addition and diversification have become crucial for the sustainability of the sugarcane industry.
Applications are hereby invited from registered master's students of the University of Eswatini to conduct research on sugar and/or sugarcane to produce high value-added products. The successful candidate will receive grant funding to conduct this research within one academic year and produce a prototype of the product.
Eligibility:
 Registered Master's students at the University of Eswatini who are due to complete their coursework by October 2021, and ready to commence their research project in the first semester of the 2021/22 Academic year.
The candidate should be registered in a science or science-related field.
The student must be willing to register on a full-time basis.
The student must be a liSwati.
Application Process:
Submit a concept note of not more than 500 words, detailing how you propose to achieve the aim of the project.
Submit a personal statement (one page only), indicating why you should be selected for the research grant.
Shortlisted candidates will be invited to an interview in order to present their proposal before a selection panel.
Award:
The successful candidate will receive tuition fee payment towards their research academic year and a monthly stipend not exceeding one academic year.
Applications are to be submitted electronically to the Director EIRMIP, sirmip@uniswa.sz. The deadline for submitting applications is by close of business on the 20th September 2021. For further information, please call +268 2517 0189/ +268 2518 6816.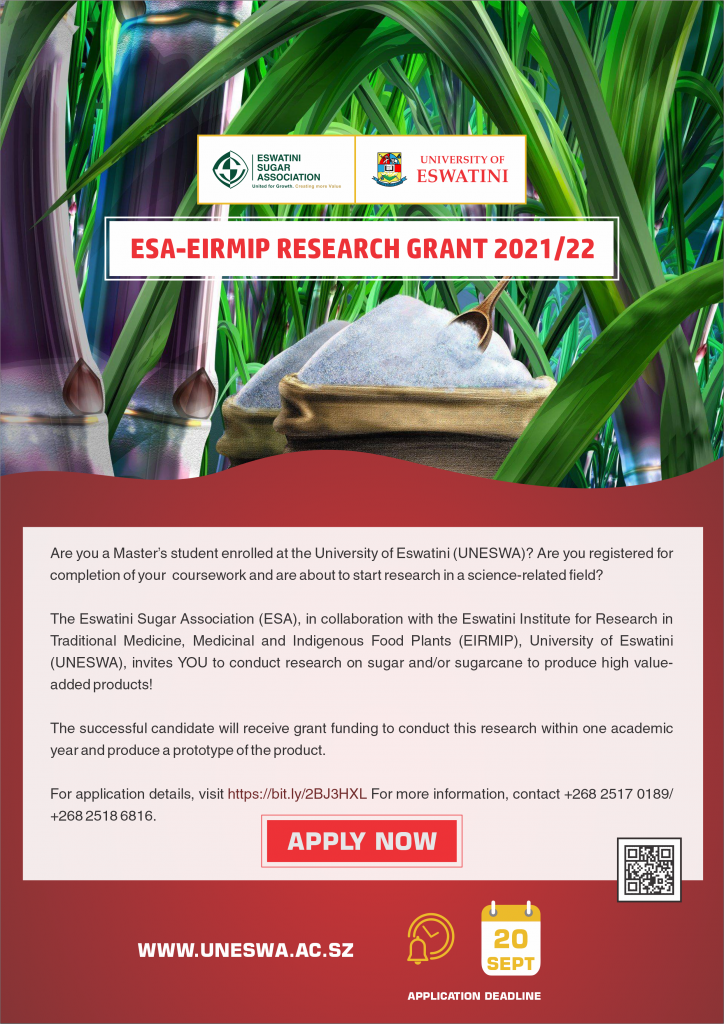 ESA-EIRMIP Research Grant Poster