Launch of the 1st Wswatini Innovation Hackathon
Mobile phones have gained popularity in the world especially with the introduction of smart mobile phones. Owning a smartphone today can be equated to having a computer and more in your hands because of its numerous and beneficial functions besides communication.
The advent of New Media, in particular smartphones, has brought about financial inclusion, a pursuit of making financial services accessible at affordable costs to all individuals and businesses within a country, irrespective of their net-worth and size. Financial inclusion strives to address and provide solutions to the constraints that exclude people from participating in the financial sector and is achieved today through the innovation and use of technology.
Smartphones allow the development and use of applications to send and receive money faster, safer and cheaper compared to banks. This means that people who previously could not use banking institutions for day to day financial transactions can still use financial services through the use of mobile applications such as Mobile Money.
With the aim of creating and promoting the culture of innovation within the Kingdom of Eswatini, UNESWA has partnered with a number of Institutions to jointly pioneer the first ever Eswatini Innovation Hackathon to foster data-driven solutions to everyday life and to improve efficiency of and access to financial services in the country.
These partners include The Central Bank of Eswatini (CBE), Centre for Financial Inclusion (CFI), Financial Services Regulatory Authority (FSRA) and the Eswatini Communications Commission (ESCCOM).
During the launch of the Innovation Hackathon at a Media Briefing held at the UNESWA Main Conference Room on the 12th of July 2019, it was revealed that the competition will run for three days, kicking off on the 2nd of August 2019 at the University of Eswatini.
Speaking during the launch of the Hackathon, the Vice Chancellor of UNESWA Professor, Justice Thwala extended an invitation to companies to support the event. "Sponsors will have the opportunity to bring their own problem statements for the participants to resolve" He said. He continued to invite young technopreneurs to participate in this initiative.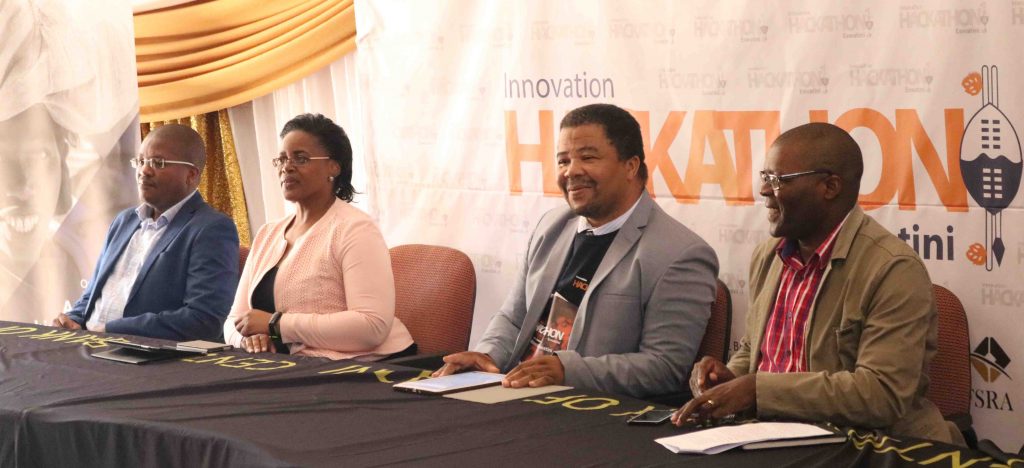 Those who qualify to participate will work as teams where groups of 2 to 5 participants develop prototype solutions focusing on different key sectors including; Small and Medium Enterprise business processes and finance, Insurance, financial education and the health sector. Three winners will be selected and awarded as follows:
First Prize: a cash prize of E50 000.00, continued business mentorship and technical assistance to enable the development of their solutions.
Second Prize: a cash prize of E35 000.00 and continued technical assistance.
Third Prize: a cash prize of E25 000.00 and continued technical assistance.
Partners of the Eswatini Innovation Hackathon aim to create a space where technopreneurs (Innovators), small and established companies, academics and regulators can share knowledge, collaborate and co-exist to tailor solutions for the country. They also aim to create the vibrancy that is required to keep young people engaged to position Eswatini as a leading Innovation Hub in the whole of Africa. In this competition innovators and industry experts are expected to connect and collaborate to create the next generation of products that will extensively serve the country.
HOW TO ENTER
 Software developers interested to enter the competition can visit the Central Bank Website at www.centralbank.org.sz starting from the 19th of July 2019. The cut-off date for entries is the 1st of August 2019.
Participants of the hackathon will be categorized according to their interests.